About Adaptive Remodeling Solutions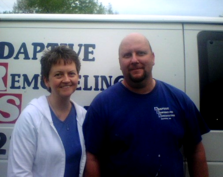 The founders of Adaptive Remodeling Solutions are Blaine and Becky Rogers. They have over 50 years of combined experience working with and improving lives for older adults. Blaine and Becky understand the unique challenges and requirements of the, aging and physically challenged, who need accessible and safe places for living.
Becky's background is in Occupational Therapy. Becky has extensive education and experience working with a wide variety of health concerns in both facilities and patients homes. These include mobility, vision and hearing challenges, Parkinson, Arthiritis, chronic obstructive pulmonary disease, congestive heart failure, hypertension, stress fractures, osteoporosis, stroke, limited range of motion, general fatigue, stiffness, general pain and various types of dementia, including Alzheimer's Disease.
Blaine's background includes education and experience in home remodeling for the aging, general home remodeling and director of maintenance in a large assisted living facility.
Blaine is an experienced universal design remodeler. He specializes in providing older adults with adaptive modifications of kitchens and bathrooms and larger home modifications such as ramps, railings, and widening doorways.
In 2008, the Good Samaritan Corporate Award was awarded to Blaine, Becky and Adaptive Remodeling Solutions for demonstrating selfless acts of courage, care and kindness toward senior citizens.
Becky and Blaine have shared a committment to volunteerism for over 35 years. They have also instilled those same values in their daughters. As a family they all work tireless to help older adults in their community.
Together, Blaine and Becky have dedicated their lives to making older adults more comfortable and safer in their own homes.