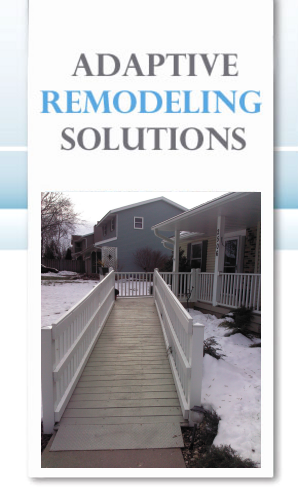 About a year ago, my husband had a stroke which paralyzed his left side. It was devastating and having an older home I was in desperate need of some remodeling. Since he was so young, we had not even thought about this yet. So of course I started getting estimates and feeling very skeptical about the estimates I was given and companies not being local and making some unreasonable promises. I was given Blaine's name from our Therapy group. I called him and he immediately set an appointment with us and came to see our bathroom issue. It was way too hard to get my husband in the tub shower we had and also hard on me. He agreed we needed to do something that would make easier for both since my husband is now in a wheel chair. He put me at ease right away that this could be done and in a beautiful and safe fashion. I felt so at ease with him and his whole group. Nothing but professionals and also personable. A trait you just don't see much of any more in the business world. So we gave the go ahead to do the job. He called me to let me know when and how long. He was true to his promise. Had everyone here when he said, thus job and cleanup done in no time. My husband and I love, love the bathroom and the work they did! It is beautiful and so functional at the same time. People are in aw when they see this. The other unbelievable trait was that he gave us suggestions on how to make our house safer and more accessible for my husband. When he left we felt like we had hit the lottery with this company. But also felt we had gained a great friend. I would recommend this company to anyone and just know, Their kindness and honesty is legit. Thanks so much, Blaine,Becky and the whole crew!! We will work together in future for sure~ Diane and Bill

"I wish I would have called Blaine earlier. He remodeled both of my bathrooms when he said he would, at the price he quoted, and I absolutely loved the results. I know it helped me sell my house with that update." Hope you and Becky have a great year. We've had a cold spell in AZ. last week but are now finally enjoying our weather again. Please look us up when you get to AZ.
Kathy B
I phoned Blaine Rogers, Co-founder (along with wife Becky Rogers) of Adaptive Remodeling Solutions, on Tuesday. He gave me an estimate of one to two hours time for installing two grab-bars in our shower. We had already purchased the grab-bars. He said that he would be able to do the work within the week and that he would call me back to set up a time. The next day he called and said that if we were available, he could be over within 20 minutes. We were delighted! He showed up on time. After discussing placement, he suggested that we might like to add a third bar (one at each end of the tub and one across the side wall). We agreed and while Blaine started on the job, my husband ran out to Home Health United to purchase the third bar. The work was finished within an hour including a thorough cleanup. Blaine is personable, easy-to-understand, knowledgeable, and very experienced. It is very obvious that he enjoys his job focusing on helping people stay in our homes as we age. The company focuses on working with and improving lives for older adults. They address the unique challenges and requirements of the aging and physically challenged, who need accessible and safe places for living. Their website is very helpful and easy to use.